About Us
Popeye's is a Fish & Chips takeaway in Clarkston. Why don't you try our Cheeseburger (6oz) or Chicken Tikka Kebab?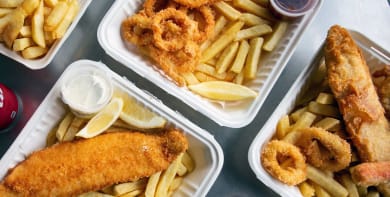 Reviews
536 reviews
Claire
"Gorgeous food - melt in the mouth, arrived nice and hot - huge thumbs up from us!"
09/10/2020
Pete
"Great food, loving the pizza crunch supper! Friendly staff, food kept hot for collection. No complaints at all."
08/10/2020
Samantha
"Excellent meal, as always. Highly recommend"
03/10/2020
Jackie
"Arrived quickly and nice and hot. Tasty veg pakora, and nice fluffy chips."
27/09/2020
Menu
3- Wraps - Mixed Wrap
Donner, Chicken Tikka & Crispy Chicken
£6.00
Cheese Burger (6oz) Single
£4.20
Fresh Fish (Goujon) Single
£4.20
Hot & Spicy Burger Single
£3.50
High Tower Burger Single
Cheese Burger with donner & 2 onion rings
£5.00
High Tower Burger Meal
Cheese Burger with donner & 2 onion rings
£6.40
The Anchor Special Single
Cheese Burger with fried onions, peppers, mushrooms & 2 onion rings
£5.00
The Anchor Special Meal
Cheese Burger with fried onions, peppers, mushrooms & 2 onion rings
£6.40
Chicken Bites (10) Single
£3.70
Chicken Bites (10) Supper
£5.20
Chicken Nuggets (10) Single
£3.20
Chicken Nuggets (10) Supper
£4.70
Chips, Cheese & Curry Sauce
Large Portion of Onion Rings
1st Pizza Topping Chicken
1st Pizza Topping Chicken Tikka
1st Pizza Topping Fresh Chilli
1st Pizza Topping Jalapeno
1st Pizza Topping Mushroom
1st Pizza Topping Pepperoni
1st Pizza Topping Pineapple
1st Pizza Topping Sausage
1st Pizza Topping Smoked Sausage
1st Pizza Topping Spicy Chicken
1st Pizza Topping Sweetcorn
2nd Pizza Topping Chicken
2nd Pizza Topping Chicken Tikka
2nd Pizza Topping Fresh Chilli
2nd Pizza Topping Jalapeno
2nd Pizza Topping Mushroom
2nd Pizza Topping Pepperoni
2nd Pizza Topping Pineapple
2nd Pizza Topping Sausage
2nd Pizza Topping Smoked Sausage
2nd Pizza Topping Spicy Chicken
2nd Pizza Topping Sweetcorn
Mini Fish (1 Piece) Single
£3.90
Mini Fish (1 Piece) Supper
£5.50
Special Mini Fish (1 Piece) Single
£4.20
Special Mini Fish (1 Piece) Supper
£6.00
Special Fish (2 Pieces) Single
Panko breadcrumbs
£6.30
Special Fish (2 Pieces) Supper
Panko breadcrumbs
£8.20
Mini Bombay Fish (1 Piece) Single
£4.30
Mini Bombay Fish (1 Piece) Supper
£6.40
Mini Lahori Masala Fish (1 Piece) Single
£4.30
Mini Lahori Masala Fish (1 Piece) Supper
£6.40
Scampi (10 Pieces) Single
£4.00
Scampi (10 Pieces) Supper
£5.50
Homemade Fish Cake Single
£3.70
Homemade Fish Cake Supper
£5.20
Special Box
1 Fish
2 Sausages
Smoked sausage
Chicken pakora
Donner
Onion rings
Nuggets & chips
Served with salad, sauce & pitta bread
£21.49
Pizza Deal 1
10" 2 Toppings
Chips
£7.95
Pizza Deal 2
12" 2 Toppings
Chips
Vegetable pakora (10)
£11.50
Family Feast
16" 3 Toppings
Onion rings
Garlic bread
Chicken bites (10 pieces)
Mix pakora
Jalapeno dippers
Large chips
Bottle of juice
£24.49
Combo Box
6 Onions rings, 6 chicken nuggets, 3 garlic bread, 3 jalapeno dippers and 3 mozzarella sticks
£9.95
Donner Calzone
Donner, onions & donner sauce
£8.50
Meat Feast Calzone
Donner, chicken, sausage & pepperoni
£9.50
Mixed Calzone
Spicy chicken, chicken tikka, onions, peppers & mushrooms
£9.50
The Anchor Special Calzone
Grilled vegetables (onions, peppers & mushrooms) with grilled donner
£9.50
Chicken Tikka Kebab Large
£6.50
Chicken Tikka Kebab Regular
£4.50
BBQ Pizza 10''
Chicken Tikka, smoked sausage, onions & sweetcorn
£7.00
BBQ Pizza 12''
Chicken Tikka, smoked sausage, onions & sweetcorn
£9.00
BBQ Pizza 16''
Chicken Tikka, smoked sausage, onions & sweetcorn
£12.50
Americano Pizza 10''
Double pepperoni & double cheese
£7.00
Americano Pizza 12''
Double pepperoni & double cheese
£9.00
Americano Pizza 16''
Double pepperoni & double cheese
£12.50
Meat Feast Pizza 12''
Chicken, donner, sausage & pepperoni
£9.50
Meat Feast Pizza 16''
Chicken, donner, sausage & pepperoni
£12.95
Mince Supreme Pizza 12''
Spicy mince, peppers, onions & fresh chillies
£9.50
Mince Supreme Pizza 16''
Spicy mince, peppers, onions & fresh chillies
£13.50
Inferno Pizza 12''
Chicken Tikka, spicy chicken, peppers, onions, jalapeno & fresh chillies
£9.50
Inferno Pizza 16''
Chicken Tikka, spicy chicken, peppers, onions, jalapeno & fresh chillies
£13.50
The Anchor Special Pizza 12''
Spicy vegetables mixed with Chicken Tikka
£9.50
The Anchor Special Pizza 16''
Spicy vegetables mixed with Chicken Tikka
£13.50
7" Cheese (Oven Baked Pizza)
£4.50
Red Bull Sugar Free 250ml
£1.80
Coca-Cola Zero Sugar - 0.33L
£1.20
Cheese Garlic Bread (5 Slices)
£4.00
Gold Star Sauce Bottle Brown
£1.80
Gold Star Sauce Bottle Ketchup
£1.80
Cheddar Cheese Filled Onion Rings (5)
£3.95
Chips & Curry Sauce Large
£4.80
Chips & Chicken Tikka Reg
£4.95
Chips & Chicken Tikka Large
£5.95
Mini Fish Gluten Free (1 Piece) Single
£4.50
Mini Fish Gluten Free (1 Piece) Supper
£6.20
Fish (2 Pieces) Gluten Free - Single
£7.00
Fish Gluten Free (2 Pieces) - Supper
£8.80
Mini Bombay Fish Gluten Free (1 Piece) Single
£4.90
Mini Bombay Fish Gluten Free (1 Piece) Supper
£6.90
Mini Lahori Masala Fish Gluten Free (1 Piece) Single
£4.90
Mini Lahori Masala Fish Gluten Free (1 Piece) Supper
£6.90
Smoked Sausage Gluten Free Single
£3.20
Smoked Sausage Gluten Free Supper
£4.90
Scampi Gluten Free (7 Pieces) Single
£4.30
Scampi Gluten Free (7 Pieces) Supper
£5.80
Half Chicken Gluten Free Single
£4.40
Half Chicken Gluten Free Supper
£6.20
Chicken Pakora Gluten Free Reg
£5.00
Chicken Pakora Gluten Free Large
£6.95
Vegetable Pakora Gluten Free Reg
£4.00
Vegetable Pakora Gluten Free Large
£5.00
Mixed Pakora Gluten Free Reg
£4.95
Mixed Pakora Gluten Free Large
£6.95
Curry Gluten Free - Large
£2.20
Gravy Gluten Free - Large
£2.20
Bottle of Vinegar Gluten Free
£2.50
Contact Us
Find Us
16 Busby Road, Clarkston, G767XL
We deliver to
G44, G46, G53, G75, G76, G77